On your next visit to Broken Hill this gallery is a must. It was completed in 1997 and is designed to give visitors a total image of the Australian outback as seen through the eyes of Jack Absalom. It features eleven 8' x 3' paintings of Jack's work in a permanent display depicting areas of Australia which have impressed Jack.
One of these paintings he painted over 40 years ago.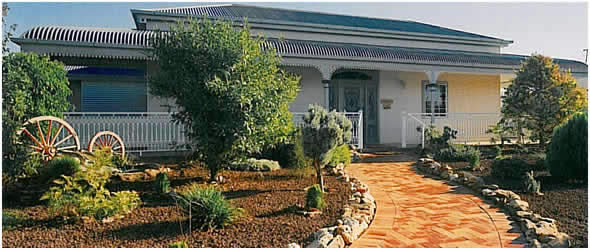 He has an extensive range of limited edition prints and books for sale. This beautifully designed gallery boasts a magnificent opal display case specially made for the gallery from polished West Australian jarrah. It features a huge range of opal specimens as well as opal jewellery. The gallery's exterior design is in keeping with the early years of Broken Hill with bull-nose verandah, lacework and balustrade.

Facilities include gallery parking and wheelchair access. We look forward to seeing you on your next trip to Broken Hill.
Gallery is open Monday - Friday 10am to 4pm and is closed weekends and January and February.

Mr Absalom's paintings appear on this website by courtesy of Pitinjarra Pty Limited.